The changing landscape of digital consumption is driving new services and experiences delivered in seconds, leading to digital commerce's growth. The potential of digital commerce has been realized and enterprises and organizations will recognize that staying away from digital commerce is fatal for fortunes.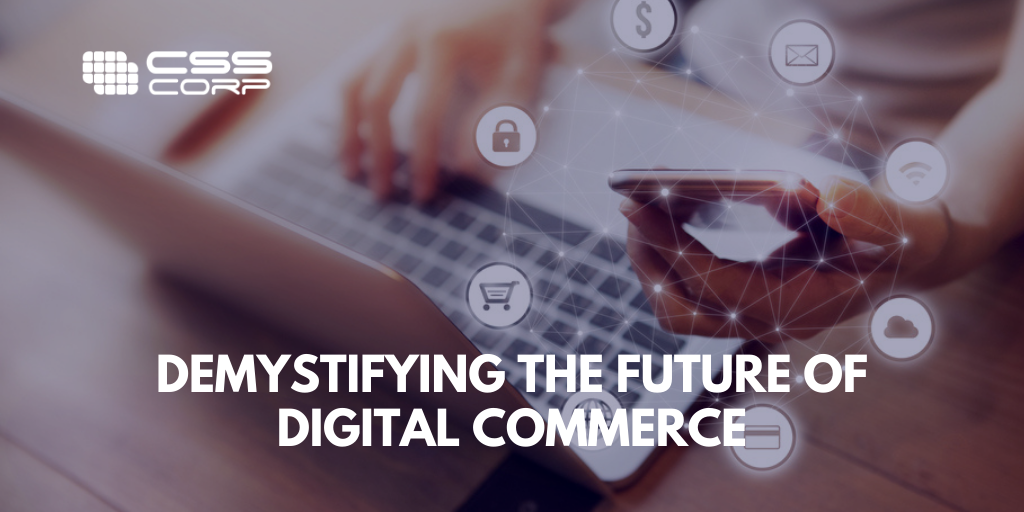 What does Digital Commerce entail, and how is it different from e-commerce?
Digital commerce involves a combination of positioning and selling, and hence different from e-commerce. It attempts to bring both parts together, resulting in a much more fulfilling and transparent experience for consumers, while tying everything between people, processes, technologies to deliver consistent and reliable user journeys.
With the pandemic accelerating the need to go digital, businesses that never had a website are digital today. This shift from a traditional experience to an online front means service providers need to rethink their strategies accordingly and scale up fast. This inflection point is where service providers can bank on digital commerce and drive success in the future.
Digital commerce helps businesses and enterprises integrate all their functions onto a digital platform, provides accessibility and interoperability through APIs, and enables customers to purchase goods themselves through interactive touchpoints and self-service experiences. The takeaway from such engagements is two-fold: one, high customer satisfaction as the buying experience is streamlined — two, a digital-first ecosystem that is agile and nimble enough to make transformational changes.
Digital commerce is the new normal
McKinsey reports that US e-commerce penetration made a 10-year growth leap in 90 days. This shows how the retailer game is changing – and changing fast. The 2020 pandemic put our best efforts at business continuity and disaster management to the test. Since then, the demand to go digital has only skyrocketed. Today, businesses have aligned to a digital-first model across every sector. With several countries still under clampdown and with a possible resurgence of yet another wave, digital is the only logical option to connect, collaborate, and move forward in these pressing times.
Due to the pandemic's pervasive effect, almost all businesses and organizations have reduced spending and are on a cost conservancy model, spending only "mission-critical" requirements.
It is predicted that most organizations' recovery may extend to two or three years to reach pre-2019 spending levels and requires a mindset change. This makes the case more potent for the B2B segment to invest in digital commerce platforms and drive business benefits.
What are the trends driving digital commerce?
Digital interactions, unlike the traditional ones, create consistent, reliable, and promising experiences that are rich in interactivity, information, and transparency. These attributes have exponentially spawned next-generation e-commerce activities that signaled the move from physical store experiences to more engaging, personalized, and contextual ones. Few key trends that will continue to fuel this growth into the future include:
1. Social commerce
Social media users are projected to reach 3.1 billion by 2021. More social media providers are expected to enable shopping directly on their platforms like Facebook Marketplace.
2. Mobile apps
Today, up to 70% of traffic happens over mobile phones. Thanks to integrated payment systems and biosecurity features, shopping in mobile apps have become seamless both in physical and virtual spaces driving its adoption and acceptance.
3. Omnichannel selling will become the norm
Customers like to see and interact with content across multiple channels. Service providers are already integrating their business platforms with applications like Amazon Personalize and Pinpoint that help them drive CX and communicate with customers across multiple channels.
4. Personalization will go beyond purchases and forge bonds
97% of leaders agree that customer experience management is an essential business strategy for creating loyal and long-lasting customer relationships. Customers engage more often with the same brand when they personalize messaging.
5. Subscription commerce
The ability to provide repeat business by subscribing to service has swelled in popularity, making it a promising business model within industries. The global subscription e-commerce market is expected to attain a $ 478.2 billion market size by 2025, growing exponentially at an exponential CAGR of 68.0% during 2019-2025.
6. PWAs (Progressive Web Apps)
A nifty way to deliver bite-sized content helps enterprises connect with their customers through device and technology agnostic means. PWAs rank high on the experience quotient and blurs the lines between web and mobile applications by providing seamless accessibility services across both worlds.
7. Immersive experiences (VR/AR/XR)
Immersive technologies like virtual and augmented reality have transformed the way users shop and interact with products. XR or Extended Reality is a new concept where the experience is made up of virtual and physical interactions. Unlike in-store VR experiences, these interactions and their outcomes can be dynamically updated. The retail sector has the maximum potential for XR, topping out at 80%.
What are the challenges that slow down the growth of digital commerce?
Digital has broken down many walls that limited enterprises from outperforming their potential. For the first time, it has enabled a complete overhaul of selling and brought in analytics, contextualization, personalization to goods and services through a digital layer. While this is undoubtedly good news for early digital adopters, most businesses are still finding their way through various stages of their digital transformation initiatives. The recent pandemic is another reason for the lull and slow spend as almost all enterprises are in a lean spending mode.
The challenges that limit enterprises from going full steam with digital commerce include:
Technology platforms and integration with existing applications
Most enterprises still have monolithic, proprietary software, and hardware platforms that are intrinsic to their business. With little or no digital capabilities, application integrations, they are mostly stuck with integration challenges, and new feature rollouts are often issues leading to loss of inefficiencies and robustness.
Training and change management
With many applications processing data, interacting, updating, and syncing them across platforms, versioning, training, change management, and monitoring becomes a critical part of the journey, primarily when service providers work within a heterogeneous environment.
Data regulations and security
There is a growing concern on data security as many applications take in personal data and increase the surface area for attacks significantly when the dependency on IoT and smart devices is rising. Applications and software interfaces that handle data need to pass these certifications and have audit trails to ensure private data stays private according to defined laws and regulations.
Personalization at scale
Service providers are finding it harder to personalize and provide consistent experiences across multiple touchpoints. Customers are demanding experiences that go deeper, providing experiences beyond shopping list recommendations.
Content marketing
With billions of transactions every minute, content becomes king in disseminating information faster. But with this explosion, service providers find it challenging to provide the right recommendations and real-time content that attracts customers, transforms them from shoppers to buyers.
Digital commerce ecosystems can transform brick and mortar experiences, migrate various types of commerce and legacy applications. To reap benefits in a digital world, enterprise organizations and service providers should think digital-first. While this involves digital transformation, digitalization of processes and functions, the most crucial point is the technology layer. Technology defines and drives your business forward, and it is prudent to invest in that because technology is your business. It should not be an afterthought.
Businesses of the future need robust, digital technologies and platforms to continue driving efficiencies of scale. The recent pandemic has set the bells ringing. The future will see consumer engagements driven by personalization, hyper experiences, making every step of the customer journey important and action rich. To support this digital mandate, enterprise organizations must make changes as soon as possible and align themselves to a digital-friendly ecosystem that delivers and balances both worlds together.
This article has been written by Dilip Patnaik, Senior Vice President - Digital Services, CSS Corp.
The original article was published here on April 17, 2021.
Additional Information