Enterprise Service Desk is a gateway for customers, employees and partners, to resolve queries related to the services provided by a company, to find answers to their problems, and much more.

With rising competition and companies striving to stay ahead of the race, customer satisfaction tops the chart. An Enterprise Service Desk enables you to improve customer relationships, reduce service delivery time and lower costs among other benefits. In order to match the perpetually evolving customer requirements, organizations need to be innovative and forward-thinking.
This is where AI comes into play.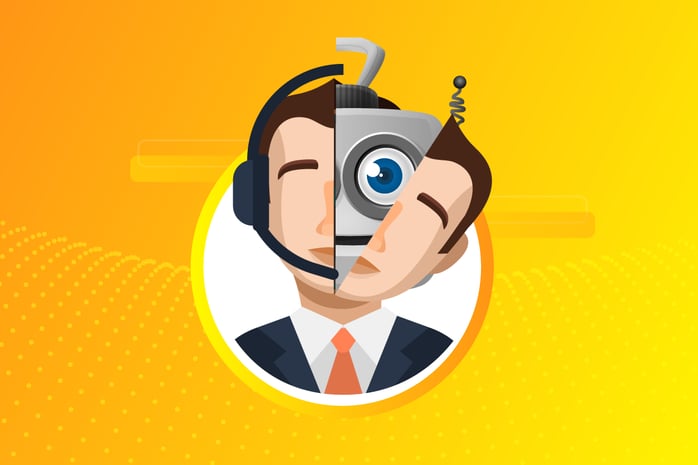 Incorporating Artificial Intelligence with Service desk not only guarantees faster response time, but it also brings along a plethora of features with it. When it comes to customer support, AI integrates all customer channels - be it social media, emails or calls, and gives a consistent customer experience. AI can be configured as per an organization's requirements and specifications.

Customer Tickets
Whenever customer tickets are generated, managing and processing those tickets becomes a tedious task and there are times when things are overlooked, due to basic human errors.
When driven by AI, ticket processing is automated and clerical errors, long resolution times, and mistakes due to lack of knowledge are overruled and the overall efficiency is improved. Customers will no longer have to scroll pages and pages of FAQs to get what they need. The ability to create and manage tickets, and perform mass actions will enable corporates to increase their customer satisfaction and benefit from higher CSAT scores.

NLP and Machine Learning
Gone are the times when solutions were delivered based on keywords searched by the customers. AI is powered by Natural Language Processing (NLP) where all the queries entered are processed through NLP to bring about the most humanised customer interaction possible. One of the many advantages of incorporating AI into the Service Desk is self-learning and the prediction features that come with it. Using predictive algorithms and machine learning, it not only predicts future scenarios, but also takes into account previously provided user reviews, derives information from the tickets and FAQs, and provides solutions to problems that do not have direct solutions.

Multilingual Support for Local Businesses
A customer can be from any nationality, and may speak a different language. Tuning to the language the customer is comfortable in, is a key to customer retention. An AI incorporated, Enterprise Service Desk provides multilingual support in various languages. This enables corporates to target local businesses and provide seamless services.

Enterprise Service Desk is undergoing a complete transformation under the influence of AI. The time is not far when AI will have the answers to all our questions!

Learn more about the next generation AI enabled tool for Enterprise Service Desks.