While CSS Corp offers a host of services under GIS, we want to touch upon a specific and essential aspect of this suite. It's about localization, and specifically, it's about building maps relevant to various local languages. Language is one of the critical elements of map localization. We believe that maps can be contextually relevant across multiple languages instead of restricting them to a few. The key takeaway from this blog is the importance of extracting, curating and converting POI data into various local languages. Read on to find out how CSS Corp is accelerating this agenda for location-based companies and top map providers.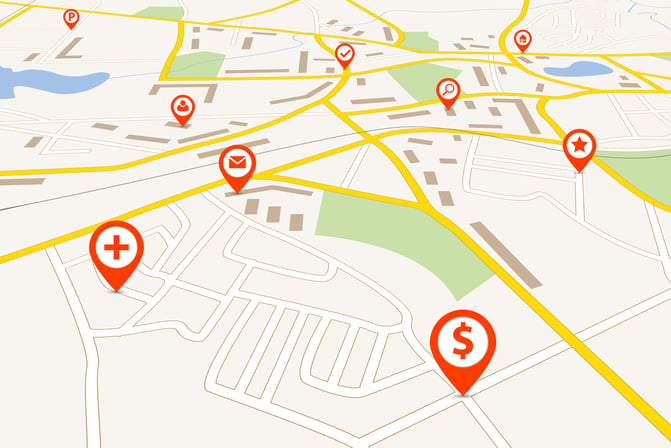 Map Localization
Localization alters the map's behavior based on country to country and region to region. It shows the differences such as a location's geographical traits and how the users read the language. Arabic, for example, is written from right to left. And some Asian languages may require particular symbols and typefaces. Local compliance is another facet of localization. Of the various aspects of localization, POI data is one of the critical elements. CSS Corp is at the forefront of GIS in helping large-scale map providers in various domains with precision and accurate regionalization of maps.
The topic of POI transliteration is like a needle in contrast to the vast haystack of GIS topics and related ones. But don't underestimate it. Imagine the scenario of so many map service organizations who compete under immense pressure to scale up their offerings. Different map providers are catering to different customers. While they specialize in building a host of critical features, they prefer the experts to worry about the accuracy of the map's language.
Apart from map localization, CSS Corp's 360-degree geospatial suite covers spatial analytics, customized app development, content & data processing, consulting, and industry-specific solutions.
But language localization is not as simple as it sounds. The challenge is to ensure that the ever-changing POI data is fresh and accurate. Imagine the amount of human time wasted in such a monotonous and time-consuming task that is highly error-prone. CSS Corp solves this problem through its GIS expertise and seasoned pros.
Digitally Enabled Extraction
CSS Corp leverages Artificial Intelligence to automate data extraction from geotagged images. Through AI, agent-assisted automation can optimize the intensive rigmarole of ensuring that POI data is up to date and accurate. The AI- and Machine Learning-based APIs retrieve high quality images that are geotagged. Hence, clients get relevant images after a detailed cross-validation phase with reference sources such as zip code, longitude, latitude, city and locality. On top of this, NLP (Natural Language Processing) validates the thoroughness of POI data.
The name of the game in this kind of process is speed. Map providers need to accurately and efficiently hasten the pace at which they process POI data.
But the new age technology-led automation can throw up literal translations instead of more accurate and meaningful ones. These problems mandate the need for further levels of content curation and validation. These kinds of issues are where GIS experts, domain specialists, testing teams, and language experts step in to ensure POI data is bulletproof. Drawing upon the experience of serving 140+ clients in 25+ different languages, CSS Corp provides clients accurate and meaningful maps by employing experts with a high level of language proficiency (level B1 on the Common European Framework of Reference for Languages). Meticulous validation phases ensure that there isn't an iota of doubt on the relevance of local transliteration.
The entire AI-ML-based automation mentioned above is possible through CSS Corp's proprietary GIS platform, "Geo.Intelli."
Benefits of the Platform
The smart system empowers teams throughout the optimization process. So, what's in it for map providers?
Automated transliteration accuracy of 80%

Automated manual work reduction up to 60%

TCO savings up to 30%
Geo.Intelli offers secure role-based access privileges, integrated modules with single sign-in, dashboard and metrics, and data ingestion engine.
This video walks you through the workflows of POI transliteration in Geo.Intelli, which can handle large POI datasets; see the steps to conversion, validation, submission, and final download.
Contextual Customer Experiences
Ultimately, it boils down to better navigation and user experience. Customers seek personalization and relevancy. Language localization helps businesses uncover new business streams by being relevant and preventing customers from switching over to competitors. Timely and accurate transliteration of POIs is so essential for local businesses to gain a competitive edge. Through a fusion of new-age digital technologies and GIS capabilities, CSS Corp is helping map providers simplify the humungous task of regionalizing maps through transliteration. Maps that speak the language of customers are transforming their experiences. Contact us for more information on our map localization services.
More Information