The Rise of AI in Enterprise Development
Marvin Lee Mensky, the American scientist and a researcher of Artificial Intelligence, said in 1967, "Within a generation, the problem of creating artificial intelligence will substantially be solved." He was right. Today, Artificial Intelligence (or AI) is a part of everyday lives, and has led to many technological innovations such as computer-based weather forecasting, voice recognition tools, and Google search.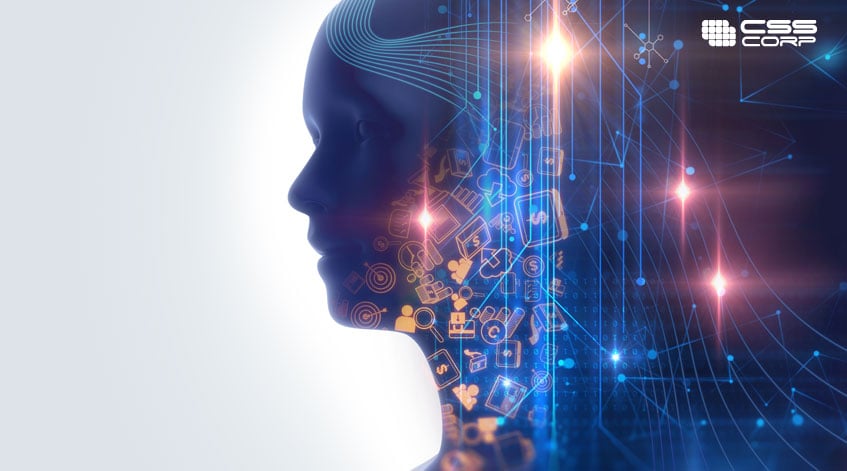 A July 2017 report by PwC estimates that AI technologies can add almost $15.7 trillion to the global economy by the year 2030. While we are still some years away from having robots in our daily lives, AI technology is showing major potential in the fields of space exploration and countering terrorism.
This article focuses on how companies are trying to implement AI, along with the major challenges they face in the implementation.
How companies are using AI technologies
Across the globe, business leaders are evaluating the impact of AI on their organization, along with the opportunities and challenges to their existing business model. The economic impact of AI are driving the following business objectives:
Enhancement in productivity through the adoption of AI-based business automation solutions.
According to the PwC report, businesses that fail to adopt and adapt to AI technology are likely to lose significant market share of their products or services in the near future. In the fields of Healthcare, Automotive, and Financial services industries, which are most impacted by AI technology disruptions, established players must move faster towards AI adoption to avoid losing market share to smaller and more cost-efficient competitors.
However, AI-based solutions will also impact each and every other industry segment, who also need to build and integrate AI capabilities into their business models.
Enhancement in productivity through the use of assisted and augmented intelligence for the current workforce.
Improved productivity is the significant driving force behind companies adopting AI, as this stems from the automation of regular tasks and processes, along with major augmentation of employee capabilities while enabling them to focus on performing high value work.
AI technologies will enable the creation of new job functions, while making other jobs redundant. There would be an industry demand for personnel trained in the application of AI technologies, along with workers who can maintain and operate these technologies.
Increase in consumer demand resulting from the availability of AI-enhanced products and services.
According to the PwC report, product enhancements resulting from the adoption of AI has the potential to add a global GDP of $9 trillion by the year 2030. Along with the improved quality, consumers are likely to buy more personalized products and services (example, having a car that drives you to work). Companies with AI capabilities will develop better insight into customer demands, and deliver products or services which cater to dynamic customer preferences, thus enabling them to capture a larger market share.
Challenges that companies face in implementing AI
While the emergence of AI systems is creating market opportunities for new and established industry players, companies are also faced with major challenges in the widespread adoption of this technology.
Here is looking at the challenges that companies across industry domains are facing in AI implementation:
Jobs
For long, automation has been replacing workers in the manufacturing industry and reducing manufacturing jobs in this sector. The emergence of AI is now accelerating the process of automation, which is now spreading to other industry sectors. AI technologies are poised to replace middle class jobs including truck driving, news writing, and performing accounting.
While AI technology will also create the demand for data scientists, machine learning specialists, and related information technology jobs, most people, who will be losing their employment due to AI disruption, do not possess the skill sets to fit into these job roles.
Companies will be facing the challenge of managing employees who are likely to lose their employment, along with having the responsibility of training their people in the emerging technologies and skills.
Shortage of Skills
Despite all the talk of automation and intelligent robots, companies still need trained human personnel to implement their vision of building machines that can think and learn. Being a relatively recent development, there are not a lot of technical professionals in the global job market, who are well-versed in AI technology and implementation. Additionally, AI as a subject is relatively new to the university circles and research labs.
Despite the prevalence of data science courses that focus on the teaching of the core skills (like Mathematics and Computer Science) of AI, the development of "Citizen data scientists" with competence in data and analytics would be vital for AI adoption and implementation.
Privacy Issues
Machine learning and AI are technologies that feed on large amounts of data, hence companies, who want to adopt AI, must develop a drive to collect user data, some of which may not be with the required consent. This could lead to major data privacy issues associated with AI.
Hence, companies face the challenge of regulating their data collection model and practices, so that they do not harm their users and potential customers.
Computing Power
Implementation of AI technology requires companies to invest in computing infrastructure that needs high levels of processing capability to make large number of calculations in the short time. While massively parallel processing systems and cloud-based computing are sufficient for now, infrastructure-based bottlenecks are likely to grow, with the creation of complex data algorithms and massive increases in data volumes.
How CSS Corp is delivering excellent customer experiences using AI
Using its capabilities in AI, automation, and analytics, CSS Corp has been successful in delivering exceptional customer experience (CX) to its customers. This technology provider has been successful in implementing AI to transform customer service operations.
CSS Corp's Cognitive Customer Experience Platform is the next generation AI platform that enables real-time communication and voice using technologies such as advanced speech recognition, natural language processing (NLP) and other AI-based technologies. The platform is accelerating the age of Virtual Customer Assistants (or chatbots) with features, including:
Omni-channel interaction across multiple devices

Reducing customer support costs by call deflection from high cost to low cost support centres.

Enabling deep learning by understanding the customer's intent.

Predicting customer behavior and avoiding failures.
CSS Corp's Contelli is the technology platform for a complete IT infrastructure management, which combines human- and machine-centric intelligence to improve business agility and operational excellence. Based on the capabilities of AI and machine learning, the Contelli platform provides the following benefits:
Around 30-40% improvement in operational efficiency through workflow automation and reduced downtime.

Provides a 360-degree holistic view of the company's IT infrastructure.

3x reduction in the Mean Time to Resolution (MTR) parameter.

Around 30% reduction in the Total Cost of Operation (TCO).