We are pleased to share that CSS Corp CIO, Mushtaq Ahmad has been recognized as "CIO of the Year" by Golden Star Awards, a reputed awards program in the industry for recognizing individuals and corporates for leadership and excellence in various fields. Mushtaq has been awarded for his notable work in transforming the IT ecosystem at CSS Corp while ensuring a 100% secure operating environment. His contributions ensured that CSS Corp was the first IT and CX services company in the industry to successfully achieve a 100% WFH model for its 8,000 employees across 18 global locations in March 2020 itself.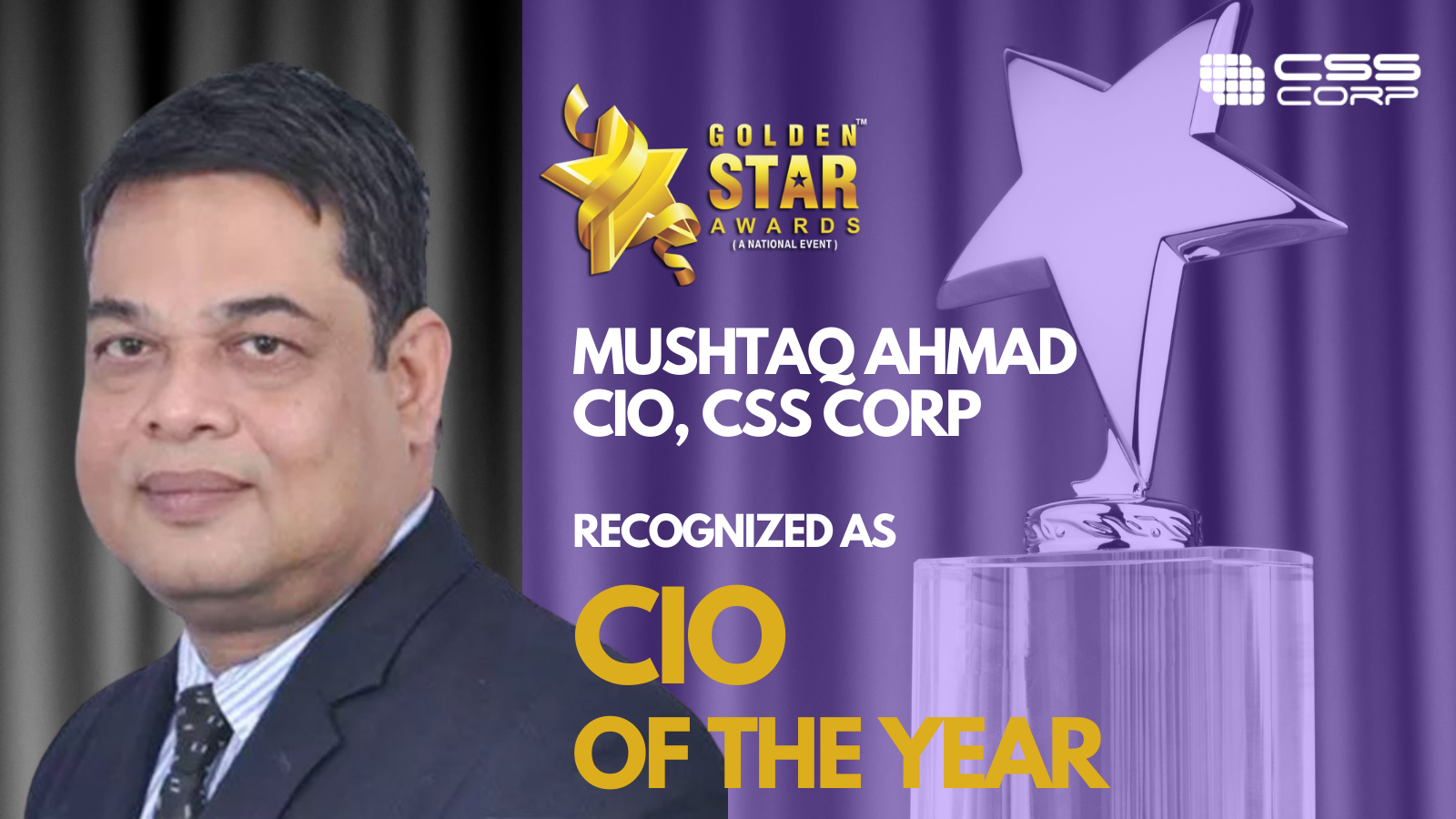 Mushtaq has been leading promising IT initiatives that deliver holistic business value and create powerful customer and employee experiences. These initiatives have helped CSS Corp transform into a data and intelligence-led company.
Here's a quick look at some of the accomplishments under his leadership:
Sustaining a Culture of Innovation in the Digital Age: Developed a comprehensive blueprint for corporate infrastructure by re-engineering and implementing new-age contextual technology solutions. The company has built a future-ready industrialized service delivery by simplifying IT operations, consolidating and modernizing the global infrastructure network, security, systems, applications, rationalizing tools, and improving asset utilization.
Driving Resilience and Superlative EX and CX in the New Normal: CSS Corp took early steps to launch a comprehensive full-stack work-from-home (WFH) services, enabled by its cloud-based 'e-Office' solution, designed with a zero-trust policy while allowing employees/associates to work from anywhere, anytime!

Our RESILIENCE Framework

helps identify the challenges associated with enabling WFH for each client. We prepared comprehensive plans to mitigate those challenges quickly, allowing us to secure buy-ins from all our customers and embrace 100% WFH.



CSS Corp enabled a smooth transition to WFH for over 8000 employees across 18 global locations

within a week of global lockdowns. We ensured

100% SLAs

and business continuity for customers,

100% safety for employees

, and over

26% headcount growth

in the FY2021.
Delivering Efficient WFH Services: CSS Corp's WFH services bring together cloud-based tools and virtual operations across talent management, process management, technology and infrastructure enablement, and client engagement. It is powered by seven pillars of productivity - Simulated Office Environment, Seamless Cloud Office Zones, Hyperlocal Talent Pool, Remote Social Engagement, Centralized Command Centers, Virtual Team Huddles, and Learn-from-Home.

CSS Corp also deployed tools like Extended Detection and Response (XDR)

to collect and send




critical logs to its data lake for analysis. This helped in rapidly detecting and responding to unknown threats during the WFH situation.
Modernizing the Security Operations: During the pandemic, the proliferation of remote work rushed security adaptations across many enterprises and thus increased various vulnerabilities. Traditional security operation platforms/tools or alert/event handling responses were no longer adequate to handle and prevent sophisticated and advanced threats. CSS Corp deployed advanced security tools on the endpoints to have complete security capabilities that include AI/ML-based malware protection, behavioral analysis, data leak prevention, secure browsing, and remote deployment of software.
Ensuring Zero Security Incidents: To ensure CSS Corp is free from cyberattacks and had zero impact due to security incidents, Mushtaq introduced a proactive approach to fight against threat actors and implemented:
A 360 Degree Security Risk Assessment Framework to predict cyber breaches in the environment
A Smart Threat Intel System (STIS) to enable fast and informed security decisions proactively with the help of intelligent modules
Zero Trust Architecture that to help detect and mitigate insider threats effectively.
Mushtaq has been driving the organization's efficiency while creating a digitized ecosystem to elevate customer experience, employee experience, and service agility by collaborating with different stakeholders. With many more exciting initiatives in the works, the organization looks set to continue its upward march on its growth journey through a digital and insights-driven ecosystem.