There were some interesting business impacts during 2020 obscured by the almost daily headlines created from the pandemic, the massive distribution of workforces and the significant rise in cybercrime and ransomware. Digital transformation, using technology to effect change in business and operational processes that improve the customer experience, has been viewed as an undertaking where, according to a Forbes article*, "up to 84% of digital transformation projects fail to deliver their expected benefits."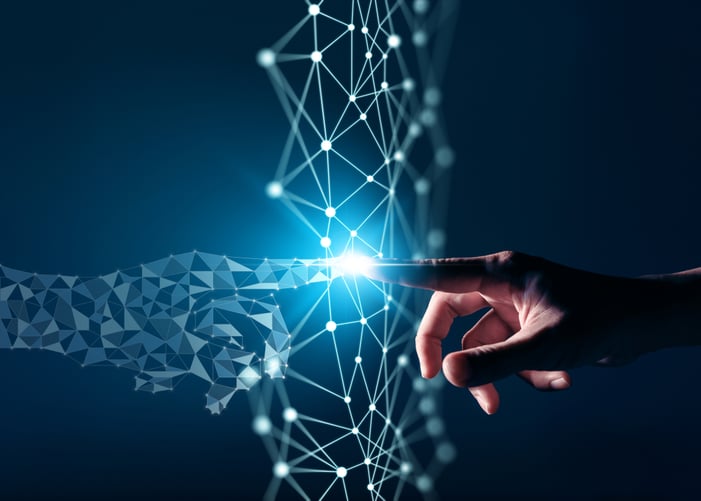 But, consider the impact of 2020. In the month of December of 2020, research firm ICG stated "enterprises continued to invest in ongoing digital transformation efforts this year and even accelerated them to adapt to the new conditions." Digital transformation projects, projected to take several years, are being completed in just months. Drawing a conclusion about this, digital transformation, in all its iterations, is as much about simplification and improvements in business agility as it is about creating positive change in the customer model.
Simplification Can be Complex?
The ICG article went on to say "Reinventing business operations through digital transformation became a high priority for top executives during the crisis. Companies increasingly are running workloads in the cloud through software-defined infrastructure and leveraging new developments in automation, AI and cognitive technologies." That can all sound complex and challenging if the business doesn't already have a solid digital transformation plan or the experienced staff required to put those technologies in place. The question then becomes, how can I simplify the use and implementation of digital transformation technologies to achieve immediate benefits that fit into a long-term plan?
A Common and Flexible Experience
There is much talk today about the lack of IT resources that have the requisite knowledge or experience to build and maintain an evolved digital transformation environment. Two factors probably impact available IT resources more than anything else: lack of familiarity with the systems or controls that underlie new digital transformation technologies and/or the lack of qualified vendor support to holistically assist in the digital transformation journey. In most instances, digital transformation involves new workloads, or adapting existing workloads, and acquiring controls to improve their usability while assuring security and cost containment. If it is possible to introduce some common and familiar elements into digital transformation, for example the use of VMware to provide a consistent level of usability and experience, then customers can simply and effectively manage and monitor workloads, regardless of where they live.
A Cost Effective and Secure Transformation
Depending upon the performance and security requirements for the various workloads, multiple environments may be required including shared, reserve, and private cloud. Having the flexibility and dynamic ability to manually or automatically control these resources, through a single pane of glass, is where "cost effective" becomes a reality. Prior to falling into a potential Cloud Sprawl situation, often a result of large, transformative projects, business should assure that the required cloud services vendor has flexible cost control capabilities, allocation management, and on-demand consumption reporting. These capabilities will improve business agility and speed time to revenue by allowing for rapid deployments with ability to scale resources up/down. To positively impact security and survivability, integrated backup and continuity services to fully protect data and workloads, should be a requirement.
Existing or New Digital Transformation Plan; There's a Better Way
If 2020 found you with a disrupted digital transformation plan, or perhaps a vendor that doesn't offer the flexibility and expertise to help achieve both short term benefits and long-term success in your digital transformation, consider a change to something familiar and trusted. This report from 451 Research provides guidance on new services available to enable the digital transformation journey and also to provide the experience and assistance required to make your digital transformation a success.
Otava and future-proof Digital Transformation
Let Otava be your first point of contact for properly leveraging public cloud services. Our in-depth digital transformation assessment results in identifying which areas of your application make sense in public cloud today, tomorrow, or maybe not at all. More than just migrations, we want to determine what your unique short- and long-term strategy is so we can give you a broader path to the future for your business. Why? Because at Otava, we strive to be the one call you make to drive business change, not just for cloud services. With our trained backup specialist team behind you, you can focus on delivering services to your customers with complete confidence, no matter what. Together, we got this!
* July, 2019 Forbes; Where Businesses Go Wrong With Digital Transformation
Related Information
Cloud and Digital Transformation
Crank up your business with Otava Gen3 Cloud, a simple way to enable bold business transformation even in data-sensitive environments. Built on VMware's Cloud Director, Otava's Gen3 Cloud gives enterprises the power to innovate and the tools to efficiently expand their cloud offerings, all within a framework of robust security.
The Essential Relationship: Digital Transformation and Disaster Recovery
Regardless of the level of priority digital transformation is assigned in your current business plan, or how far along you are on the digital transformation journey, the pandemic has expedited requirements for new customer service models, a primary tenet of digital transformation for any business.
What are CIOs doing before, during and after a pandemic?
In recent years leading up to the early 2020 pandemic, some of the top CIO budget priorities were implementation of analytics, application modernization and various forms of cloud computing.
The original article published was published here on 13th January, 2021.