Artificial Intelligence (AI) And Customer Experience (CX)
When we come across the term Artificial Intelligence (AI), most of us imagine robots and talking computers from movies, prepping for a revolution to overthrow the human race and take over the world. But, in reality, AI is not just evil robots scheming to dominate us. A comprehensive definition by Gartner, explains AI as, "Technology that appears to emulate human performance typically by learning, coming to its own conclusions, appearing to understand complex content, engaging in natural dialogs with people, enhancing human cognitive performance (also known as cognitive computing) or replacing people on execution of nonroutine tasks."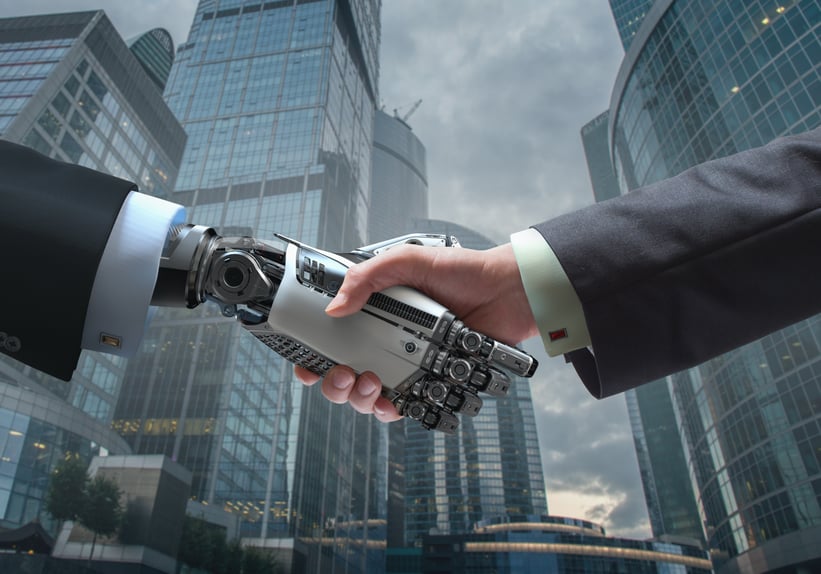 Even if we don't realize it, AI is an enormous part of our everyday lives, and its role is only going to grow in a connected world, buoyed by the IoT. Digital voice assistants like Apple's Siri, Microsoft's Cortana, Amazon's Alexa, and Google's Assistant make us more efficient by helping us multi-task. While driving we can just ask Siri to read out our messages or reply to emails, or get Alexa to create a grocery list while we are cooking. Google Maps uses real-time anonymized data to show us the best possible route with current traffic conditions, and even estimates the time to our destination. Studying our choices and behavior helps Netflix recommend movies and shows, while Amazon uses that information to help us shop. Email providers automatically categorize emails as spam or fraud depending on the content, saving us time and keeping us safe. When you upload pictures on Facebook, facial recognition software reads and suggests people to be tagged. We don't even bat an eyelash at these technologies anymore, they have pervaded life to that extent.

Using AI To Improve Customer Experience

Artificial Intelligence in business and chatbots can greatly improve customer experience, and having realized this, companies are harnessing their power to create more personalized experiences for customers. An improved experience, consequently, has a positive impact on the company's figures as well. For instance, Amazon saw a 29% increase in Sales, as a result of recommending products to its customers; while movies recommended by Netflix were chosen 75% of the time, by viewers. A simple feature that's been incredibly effective in creating a win-win situation for customers and companies alike.


The whole gamut of AI, automation, data collection, and predictive analytics is allowing companies to build better relationships with their customers, by suitably addressing their needs as individuals, and not mere transactions.

Some truly successful uses of Artificial Intelligence in business and Big data by companies include:


Tesco (Retailer, UK) – Using big data analytics, and the IoT, Tesco tracks customer buying patterns. At Tesco Labs, they test multiple projects across various technology disciplines like mobile apps, smart homes, augmented and virtual reality. They aim to understand customer buying behavior with respect to pre-purchase, during the purchase, and post-purchase. A study found that 60% of millennials in UK approve of the use of AI by retailers to offer unique products. Putting this together with Gartner's prediction that by 2020, over 75% of customer interactions will be handled by AI agents, Tesco's investment in AI is a prudent business move.


Shop Direct (Online Retailer, UK) – Using AI, Shop Direct can determine the frequency of communication, and the channels through which it should reach out to customers. Additionally, the company is able to predict why and when customers will stop purchasing from them, and automatically take preventive measures to keep them engaged. Due to this, their conversion rate at 4% is much higher than the average retail conversion rate of 2.8%.


Nest (Smart Thermostat) – Acquired by Google in January 2014, this intelligent thermostat (which can now be voice controlled by Google's digital home assistant Alexa) studies your heating and cooling needs, and using behavioral algorithms predicts your temperature preferences to automatically adjust the temperature in your home and office.


Tesla (Automaker, USA) – We may not have flying cars yet, as predicted in 'Back To The Future', but we've got Tesla's smart cars, which are revolutionizing the automotive industry. Their predictive capabilities, self-driving features, and other technologically-forward aspects make them an absolute delight, especially when one considers their use to visually impaired/differently abled customers. As with smartphones, their over-the-air updates constantly improve their efficiency and smartness.


IntelligentX (Brewery, UK) – IntelligentX by using artificial intelligence in business is brewing and refining its four beers: amber, golden, pale, and black . An algorithm hidden in a Facebook Messenger bot elicits feedback from customers, and passes it along to the human brewers. The beer bottles feature codes that direct customers to the bots, which then ask a number of questions on flavors and customer preferences. The algorithm analyzes the information, and refines its questions by learning from the feedback given, using a system called reinforcement learning. From customer feedback, trends are discovered that are used to alter the recipe. AI is helping IntelligentX's brewers to act on customer feedback much faster than ever before.

The Future

The future of AI holds limitless possibilities. As technologies are refined, systems will imitate human thinking better, and what is considered AI today, might become common place tomorrow.

No matter how AI evolves, be it to provide better healthcare, safety, security, increased efficiency, or predictive and proactive systems, the underlying thought driving its evolution should be enhancement of the customer's experience. Merely inventing new technologies to do the same thing is not innovation. Ideas that disrupt the existing way of doing things, to bring about improvement, are the ones that should guide the growth of AI.

CSS Corp's Foray Into AI

Gartner's report on the Top 10 Strategic Technology Trends in 2017, lists AI on the top; no surprise there. Further, Deloitte's 2016 Global CIO Survey, of 1200 IT Executives found that significant investment over the next two years will be in new technologies, 64% of which includes cognitive technologies or Machine Intelligence (MI). This is a clear, undisputable indication of the growing importance of AI.

With AI playing a key role in delivering superior customer experience, CSS Corp's Cognitive Customer Experience Platform is a great tool to meet the demands of today's tech savvy, instant gratification seeking, DIY customers. It integrates multiple customer channels like voice, email, chat, and website; across devices, for a consistent customer experience. Powered by AI, NLP (Neuro-Linguistic Programming), and data analytics, the platform has self-learning capabilities that allows it to provide the most intelligent resolution and gives customers the choice to self-service or seek assistance across any channel, at any time, in multiple languages.

Another powerful CSS Corp tool driven by AI is Contelli, which stands for convergence of human and machine intelligence. With Contelli, you can remotely manage, monitor, and optimize your IT infrastructure. Integrating AI, IT operations analytics, and automation, Contelli helps predict issues and proactively manages complex support ecosystems. Contelli can be tailored to meet your organization's IT needs, and allows for adoption of new age service models like ''pay-as-you-go". The end result: a superlative customer experience.