We recently talked with CSS Corp about its investments in QA, in particular its new Digital Assurance offering. Digital Assurance targets UX QA, an area that has not had the attention it deserves.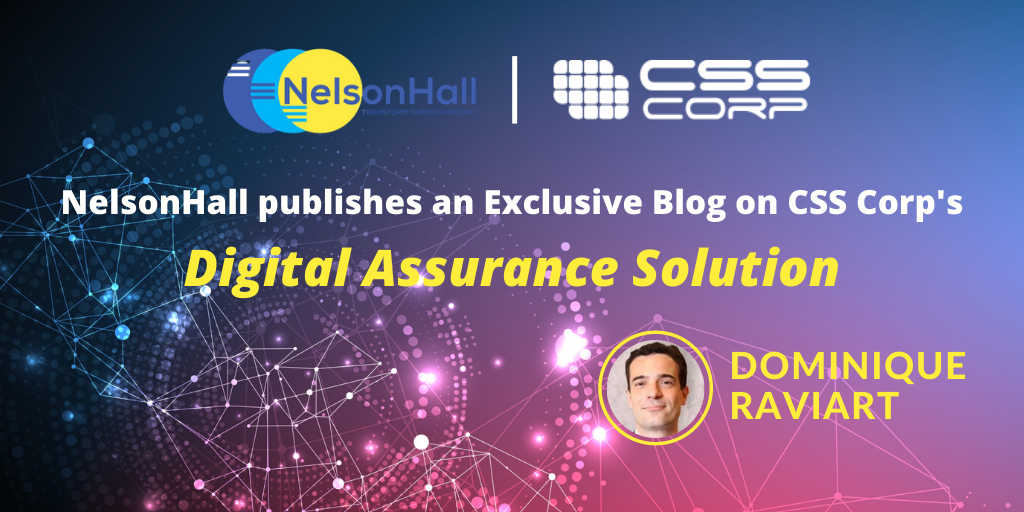 Clients have prioritized investment in continuous testing & automation
While many large organizations have devoted considerable time and effort to continuous testing and functional automation, they have invested only selectively on UX testing. Indeed, demand for UX testing has been limited. Regulation has driven some UX activity, particularly around accessibility testing. The heterogeneity of devices and screen sizes also means organizations spend on compatibility testing. Also, performance testing has become somewhat more UX-centric by tracking performance using end-user metrics.
To a large extent, this is it. QA and UX are two different worlds and do not feed on each other. UX would gain from the automation expertise of QA, while QA would benefit from opening up to new challenges. The world of UX is vast and growing, especially in the space of usability research and testing. But so far, it is not really automated.
CSS Corp has created a UX testing platform with Digital Assurance
So NelsonHall welcomes the investment by CSS Corp to expand the boundaries of UX testing, relying on automation. With Digital Assurance, CSS Corp has aggregated opensource software tools with proprietary accelerators. The scope of Digital Assurance is considerable, ranging from performance testing to usability testing. Within usability testing, CSS Corp has focused on several dimensions, including "appeal," "navigation," "search," and "content & information."
An example of an engagement where CSS Corp developed an "appeal" feature is for a tier-one cosmetics company, verifying that the color displayed on a screen for a lip pencil was consistent with the company's color palette. The challenge was one of scale, the client having 3k URLs and color palettes to validate. CSS Corp used computer vision technology to compare images, thereby removing manual comparison for the client's 78 brands.
Another example is around "search". CSS Corp has integrated SEO as part of the metrics it tracks. For instance, it will analyze the structure of a website and identify the number of steps end-users need to go through to complete a transaction.
A third example of a feature available in Digital Assurance is in "content & information". CSS Corp is automating localization testing with spell checks and bundling it with grammar validation and readability analysis.
Alongside these features, CSS Corp has added more common functionality such as performance testing (with end-user KPIs) and sentiment analysis (the classification into different sentiments of opinions gathered on app stores and social networks such as Twitter), along with accessibility testing.
CSS Corp pushes the boundaries of UX testing
We think Digital Assurance has two main benefits. Firstly, CSS Corp is systematically extending the boundaries of UX testing automation. UX research and testing remain labor-intensive activities, and we think the potential for further UX automation is immense (see below). Secondly, CSS Corp is steadily aggregating tools around Digital Assurance and provides an increasingly comprehensive UX testing service.
Potential for UX automation
The potential for automation in UX testing is immense. While QA has focused on test automation, UX research also has the potential for automation.
An example is around videos: during the research phase, digital agencies record videos of end-user interviews. Going through these videos is time-consuming. AI bears the promise of focusing on parts of the video through sentiment detection, for instance.
Once a website or a mobile app is in production, clients are increasingly correlating its technical performance with its business performance (e.g. through integration with such tools as Google Analytics). Currently, understanding the correlation of multiple events takes time: using intelligent automation will help.
The original article was published here on September 3, 2020.