If only there were five best practices to improve IT customer service!

Depending on who you are talking to, the answers to the above question could vary. In this post, CSS Corp is excited to present its perspective on this matter as a Gartner listed IT services vendor. And yes, the perspective will cover our prioritized 5 best practices to improve IT customer service.

Before we begin, it would be relevant to highlight the scope - inclusions and exclusions - of this article. The scope would be as under:-
IT Customer Service and not IT in Customer service
External customers and not internal customers e.g. employees (internal customers) requiring IT support


IT Customer Service Impact Framework
Given the vast expanse of the IT customer service space, it would be helpful to lay down a IT customer service Impact Framework for the readers. The best practices suggested in this article have been proposed at a strategic level.

An organization could take action along five different lines to impact IT customer service positively.
Strategic
Leadership
People
Process
Measurement


5 Best practices to improve IT customer service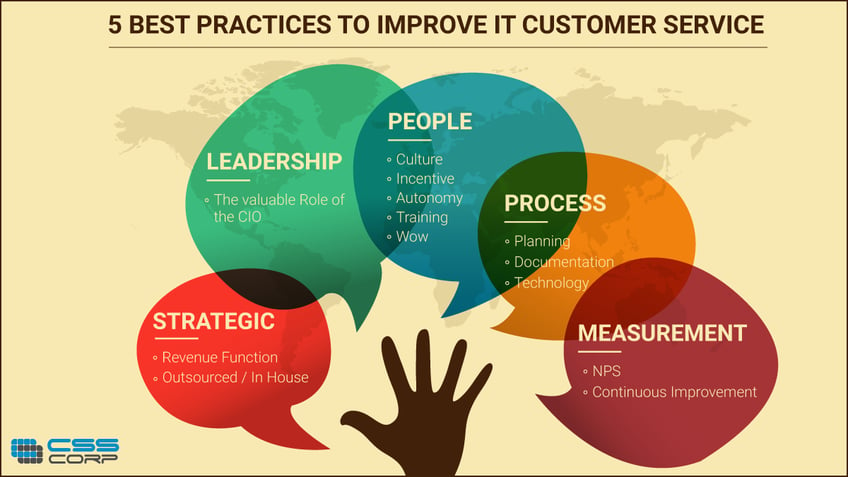 Strategic

Revenue Function
Outsourced / In House

Leadership

The valuable Role of the CIO

People

Culture
Incentive
Autonomy
Training
Wow

Process

Planning
Documentation
Technology

Measurement

NPS
Continuous Improvement
Strategic Impact
Is the element of strategy given enough weight when it comes to its impact on customer service?

Yes. There are no straight answers to the above question. But the role of strategy is perhaps, very under-rated. In this prose, we delve on its role along three axes.
Revenue Line - Across all sectors and functions, including IT customer service, service is giving way to overall customer experience. Some businesses are going steps ahead and aligning customer service and experience with revenue. Historically customer service has been a cost function. And that could now change. Which business doesn't love revenue?
Outsourced / In House - Has your business outsourced IT customer service, yet? Outsourcing is a hotly debated business subject. Not all business issues assume political overtones. (link to a previously written blog on outsourcing). Both large and small businesses have added to their bottom line with outsourcing. This, of course, is a function of an organization's process maturity and corresponding controls. Outsourcing enables businesses to focus on their strength, while at the same time benefiting from outsourcing partners, who tend to specialize in their field of outsourcing.
Competition - Take a look at your competition. See, what are they upto? Do you find any opportunities to upstage them? Or are there valuable lessons we can take from them? Competition can help us take some first steps when it comes to getting started.


Leadership
Is the discussion on IT customer service impact possible without the person at the centre of IT - CIO?

By sheer logic, the CIO could have profound impact on all aspects of service. But, this area of Leadership, is yet to be studied enough. There are a number of variables that could determine the degree of impact that CIO leadership could have. The variables could range from Board of Directors support to personality of the CIO. Whether incumbent CIOs with years of success, under their belt, can take this up this challenge, isn't a question put up enough? It will be a crucial factor, nevertheless.

If you are a CIO, we would like to know your views on this subject matter.


People
Perhaps, the most important factor in IT customer service success - People.

It will be impossible to do justice to this aspect of People in this short write up.

A number of factors are involved. We touch on the important ones.
Culture - Whether it is a culture of service excellence to simpler things things like celebrating victories on important service tickets. Is the team asking questions, really questioning how things are happening, in the best interest of the customers?
Incentive - Does the incentive compensation plan go beyond money? Does it fire up service teams towards key career goals?
Autonomy - Are the agents empowered enough to take decisions on their own quickly and satisfy customer issues?
Training
WOW - IT customer service is boring, but the enterprising team will always find enough opportunity to WOW customers. Is this happening?
What has been your experience on this subject?

Process
The "Process" factor is key to execution success. It starts with documenting a plan for customer excellence. That is,
Documented customer excellence plan
Service standards
Team Roles and responsibilities
Customer success stories (Case studies) especially those that have dealt with difficult customers and troubling complaints
Technology - Technology and software have really made the world, a flat place. Automation is now being adopted successfully - chatbots, conversational AI (link to Yoda), automated calling, predictive support. Large software vendors like Salesforce are also exerting their prowess e.g. Salesforce Service cloud.
Is your IT customer service strategy taking into account all the above?

Measurement

How can we improve, if we do not measure? Measurement is key to performance improvement. It is no different when it comes to IT customer service. The proven Deming cycle PDCA - Plan, Do, Check, Act - is highly recommended, to pursue continuous improvement.

Service organisations around the world, over the years, have guided their service efforts using the Net Promoter Score (NPS). It is indispensable to have a roadmap to an increasing NPS.

Your Unique Situation

The above is a framework that you could employ to guide you in your customer service initiatives. The intensity of the contributing factors might vary depending on your use cases, the industry you cater to, even the geography you operate in and so on.

Of all the factors, the revenue function aspect of IT customer service, holds maximum potential for transformation. It also is, perhaps, the most riskiest