"Thank you for calling. Please listen carefully because our menu has recently changed." We've all heard this greeting, but most callers aren't aware that it's not just the menu that has recently changed. The technology, processes, and workforce management efficiencies at contact centers have all undergone recent upgrades. Advanced capabilities are now possible due to data-driven insights which are valuable to contact centers for multiple reasons: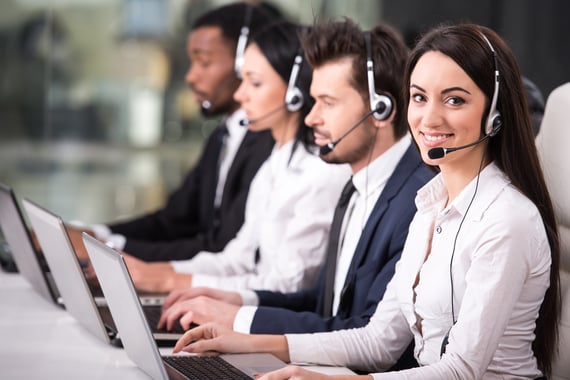 With the aid of automated systems, contact center agents can match callers to their customer records. Being able to identify customers and their purchase or service histories before speaking to them makes it possible to predict their needs and proactively service them or provide self-service. Automated systems can determine if a caller wants to reschedule an appointment or check the estimated arrival time of a technician and quickly redirect the caller to this information without the caller having to wait on hold or speak to an agent.
The ability to leverage the information that is known about a customer allows agents to proactively offer additional services or look for upsell opportunities. An understanding of call patterns and why and when customers call helps contact centers with scheduling. Some agents are good at upsells while others excel at service recovery or making upset customers happy. The best salespeople should be scheduled at peak sales times. Matching employee skillsets to customer demands increases the opportunities to sell or upsell, improves loyalty, increases revenue, and improves customer satisfaction. When you understand your agents' training and skillsets, you can route calls to the agents who can provide the best service and efficiently plan for your training and staffing needs. This makes your whole operation more effective, a win-win for the customers and the company.
Predictive analytics allows call center agents to know who their callers are and anticipate their needs before taking their calls. An agent who knows what a customer's habits are can make proactive suggestions such as: "I see your family's cellular data usage often exceed your monthly allowance. I can offer you a promotional plan that includes more data at a lower price". If the suggestion is well executed, the customer will appreciate the discount, be unaware that an upsell may be going on, and feel she is getting proactive service. This small gesture may result in increased customer loyalty and the customer promoting the company by telling others about this great company that decreased her bill.
"Driver analysis" utilizes data to help contact centers forecast their staffing and training needs, ensuring that the right people are in place at the right time to assist callers. Events that cause calls to come in are called "drivers". If you understand what your call drivers are, you can accurately forecast call patterns and plan accordingly. For example, if you know open enrollment is coming up, you may want to offer refresher training and schedule your most knowledgeable staff at key calling times.
Leveraging data-driven insights helps contact centers become more efficient which, in turn, helps customers. For example, if a customer calls to schedule a maintenance appointment for a stove and is asked by a proactive agent if she would like to schedule an appointment for dishwasher maintenance at the same time, the need for an additional call is eliminated which saves the company an expense and saves the customer time.
Data insights can also save customers from having to repeat their questions to multiple agents. Repetition is annoying for callers and costly for companies. Every second that a customer is on the phone has a cost associated with it. The more efficiently an interaction can be resolved, the less costly it is.
Companies promote self-service because it is the least expensive service model. They don't want customers to ask automated attendants if they can speak with live agents. With data insights, even upselling no longer requires live agents. Customers who use online self-service functions often get automated updates about products they regularly buy or search for. They may receive purchase suggestions such as "people who bought these pants also liked these tops" or they may be asked if they want to place a previous order again.
Northridge helps clients understand what their call drivers are and leverage data-driven customer insights to better forecast call volume and arrival patterns. Understanding customers and why they are calling not only improves customer service, it also improves efficiency, helps with budgeting and planning, and helps clients get the right employees in the right place at the right time. Data-driven customer insights allow companies to become better staffed, provide better training, and be better prepared. This leads to increases in opportunities to delight customers with proactive service.
Is it time for your menu to change? To learn more about contact center workforce management solutions and data insights, contact us or read more about it here.
The original article was published here.