Inhale and exhale; breathe in and breathe out. Employees are embracing meditation, yoga, virtual workouts, music, or any other form of physical and recreational activities to beat the pandemic blues. The current scenario is testing resilience at a personal and enterprise level. Technology service providers and their clients have no choice but to navigate the new normal and emerge stronger. Here are 4 critical perspectives worth considering when business is anything but usual.
1. Thriving in the New Normal: Embrace Virtual Operations
2. Successful Partnerships with Service Providers
4. Technology-Driven Integrated Support and Services Ecosystem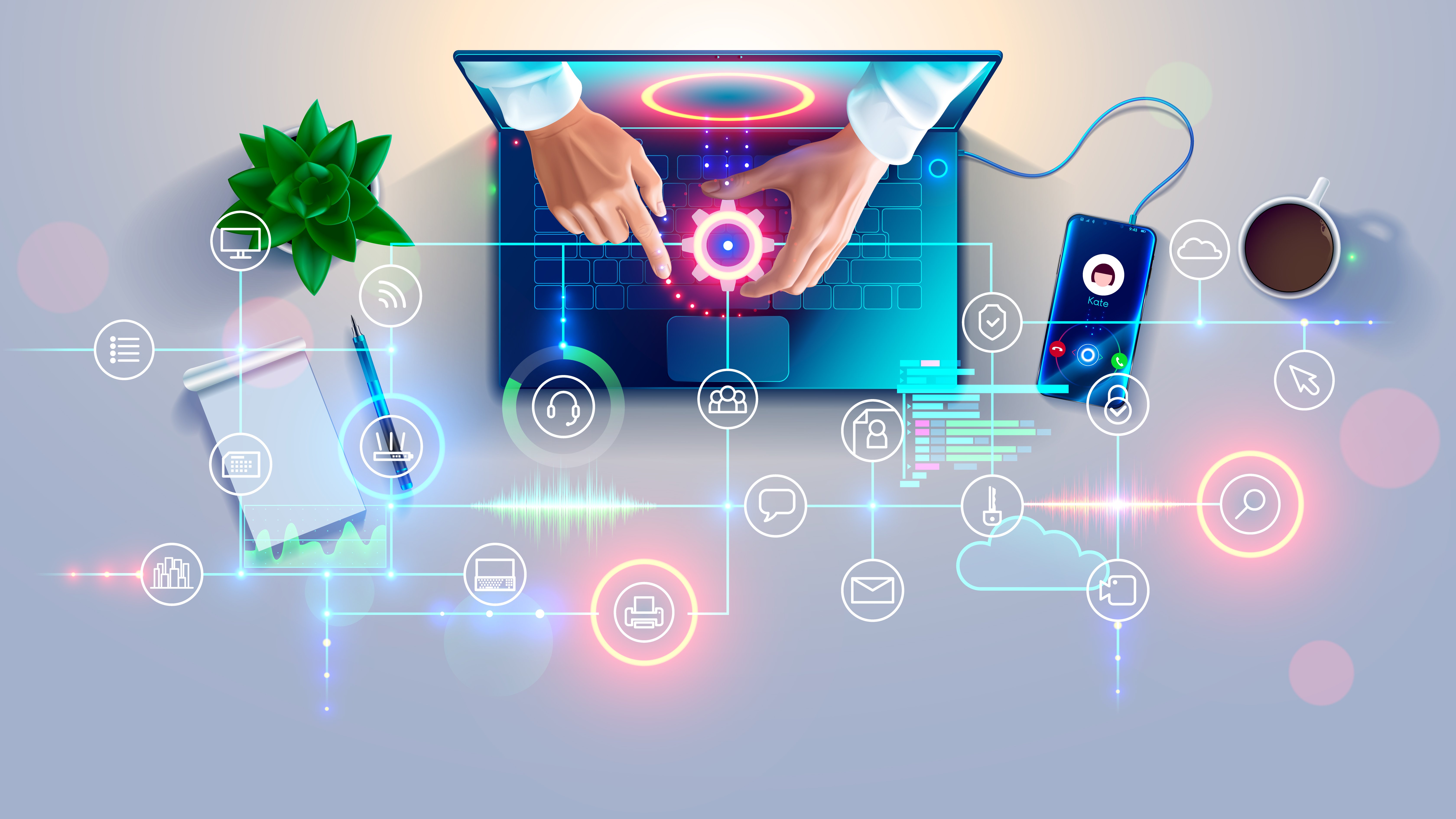 #1. Thriving in the New Normal: Embrace Virtual Operations
Service providers and their clients have a lot to think about enterprise resilience. Employees—the human factor is the center of it all. As business goes virtual, the entire process from hiring, on-boarding, and orientation has its own set of challenges.
Managing a virtual workforce is the new reality. Leaders need to spend time setting things concrete because the current scenario does not permit the kind of conversations prevalent before Covid-19. They need to put in place new measurements or milestones to know the project status and ensure the team moves along well.
Though online learning has picked up, it's a challenge when employees are already spending extra screen time on work plus numerous video calls in a day.
IT infrastructure at this time deserves an extra layer of security to protect data and thwart cyber-attacks.
During uncertainty and disruption, customers seek undisrupted service. Hence, every customer case deserves full commitment.
Empathy is the key to drive employee engagement during the crisis.
Employee engagement matters. Assure team members that they are taken care of. Offer them flexi-work choices, care packages, and allowances to improve their home office conditions.
The focus is on fighting mental fatigue & energizing teams through social break-rooms, virtual happy hours, spot recognition, and appreciations.
CSS Corp's HR team is accessible through virtual conferencing for specific hours of the day. Employees have micro-learning modules and a variety of online programs to hone their skills during the extra hours at home.
#2. Successful Partnerships with Service Providers
Among the many reasons that clients work with service providers, the significant ones are improving scale, margins, and innovation. These reasons are even more critical when it's a strategic partnership, and when you view the service provider as an extension of the team.
Scale: CSS Corp is on a rapid growth trajectory and focuses on specific locations. A service provider's growth and locational focus help the client scale up their operations in those locations.
Margins: A service provider like CSS Corp can help clients find the right talent at an affordable budget.
Innovation: CSS Corp as a service provider is so far along the Digital Transformation journey and offers needle-pushing capabilities that clients can leverage instead of building capabilities on their own.
Hallmarks of a successful partnership include customer obsession, robust execution, transparent governance, continuous value, co-innovative & collaborative partnership.
Customer obsession culture is vital for both the service provider and the client. Being an extension of the team means that both have skin in the game and hold each other accountable.
Clear expectations of KPIs and SLAs ensure robust execution.
Transparent governance that is data-driven is essential. Transparency means a clear line of accountability, balanced scorecards, and honest quarterly performance reviews.
Other traits include collaborative culture, co-innovative models, and progressive value realization for investment in digital solutions.
Overall, the celebrations and challenges are what make the journey with a service provider meaningful.
When the customer is the focus, everyone wins.
#3. Trending Destinations
Although India is not as low cost compared to a decade back, the expertise is unparalleled. India continues to be the preferred choice for English and technical level 1-3, customer care support, and professional services. Most customers have operations in India. The Philippines is conducive to customer care and welcome center support. CSS Corp has met with great success in Central America in the last 2 years. The team has rapidly expanded operations in Costa Rica from 200 to 700 employees and sets sights on further expansion in the days ahead. In terms of communication, this location offers top-grade support for near-shore levels 1-3 at a slightly higher price than India.
Costa Rica is known for its robust educational system, high literacy rates, multilingual population, and political and socio-economic stability.
The location is ideal for high-end roles such as technical account management and customer success management. Costa Rica is a hot destination for research, life sciences, medical devices, and healthcare. A lot of US companies have their operations in Costa Rica for medical devices and life sciences. The location shares a cultural affinity to the US, and customers find it easier to interact with support agents here.
#4. Technology-Driven Integrated Support & Services Ecosystem
Digital transformation in the last 12 months has accelerated. In the Covid-19 era, there's even more acceleration. Customers today want more than cost savings. They want Customer Lifetime Value, operational scalability, and better customer experiences.
CSS Corp has a 3-layered Unified One Services Ecosystem tightly integrated by AI and analytics engine. This ecosystem provides the benefits that customers are looking for today.
CSS Corp offers 5 best practices to clients:
The use of AR and visual bots (via camera) to improve Customer Effort score.
Not just chatbots but AI-based chatbots; eliminate simple, repetitive queries.
Use smart dashboards for customers, engineers, and team leads. Track customer sentiments, aging of tickets, and enjoy tremendous leap in productivity.
Self-service with AI and contextual search is witnessing high adoption. Empower service agents to serve customers better.
Unified knowledge management is gaining significant traction. Reduce call volumes through self-guided resolutions.
While everyone is dabbling with automation, not everyone is successful.
CSS Corp offers a coherent long-term plan for clients with industry-leading platforms and clarifies the expectations on what processes can and cannot be automated. Now is the time for customers to think about automation initiatives with the right partner.
Bringing it Home
Outsourcing has taken on a whole new meaning. It's taken on a different level of partnership. Outsourcing today is all about becoming an extension of the client. From a business angle, the pandemic presents new learnings, shifts in thinking, and way of working across. The perspectives and best practices gleaned during this time will enable enterprise support providers and their clients to emerge stronger.
Related Information
Watch: Employees from Costa Rica share their thoughts