New ideas that you can consider for your CX teams
by Melanie Fricke of Directly OnDemand, recently acquired by CSS Corp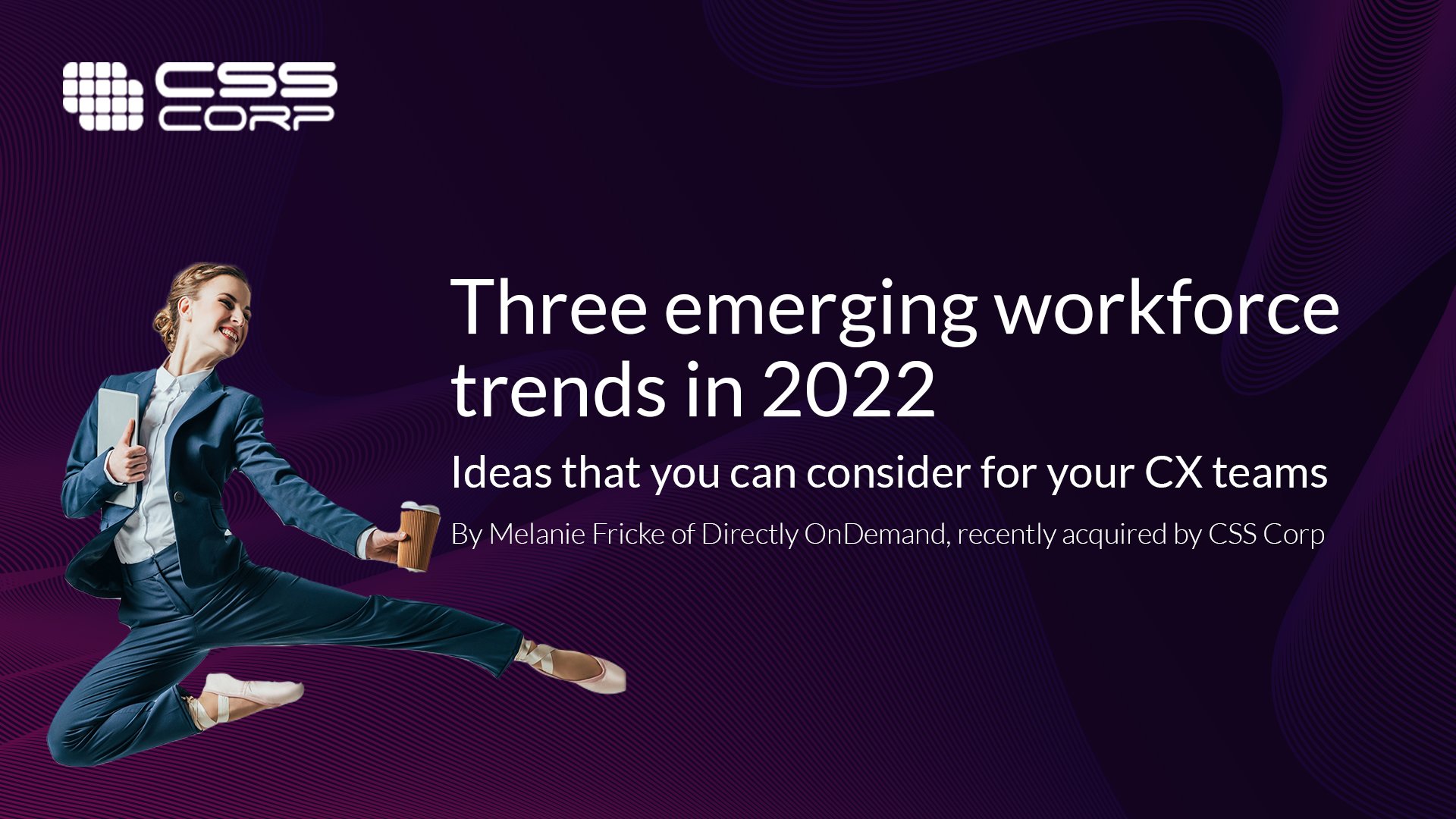 Companies and contact centers are asking employees to come back to the office now that most "lockdowns" are over. Now used to the flexibility and convenience of remote work, many employees are resisting. Where employers are forcing compliance, employees are re-evaluating their choices, and many are making decisions to quit or try something new. People are flocking out of the big cities and finding larger homes in more rural areas. What does all this mean for the nature of work?
It means that there is no going back in time. The pre-pandemic model of work has been rendered obsolete by the success of the remote work model. So, how do we stop bleeding attrition if we can't go back?
There are three key trends shaping the workforce today that employers should embrace - listen more, adopt a gig workforce and build internal resilience.
The first trend is so obvious yet often ignored. It is the power of listening to our employees. At the EITK event in Clearwater, Jen Johnson from Frontier highlighted the need to listen to the customers and those supporting them every day. She spoke about how Frontier improved NPS by 30 points as her team learned the common language of "speaking customer." Their agents also felt more valued and heard, and their jobs became easier as customer barriers were removed. I feel that many leaders get "busy" and forget the basic skill of listening. If we can't stop the great resignation from happening, we can at least understand why each of our employees is making this decision.
The second trend is to adapt to the changing workforce. I believe the change that is here to stay is the rise of "gig" work. Gig typically means a short-term job. You have probably heard it in reference to musicians who are going to work a "gig". Over the last 10 years, with the rise in ride-share services, food delivery, and other freelance work becoming available, many workers have turned to this "gig economy" to have more autonomy over their work. At Directly OnDemand, we define gig work as:
Flexibility in choosing where to work, what to work on and how long to work

Rewarding the worker for the specific work product and outcomes achieved rather than an hourly rate

Patented routing logic to present the work available to the right skilled worker with the best performance
In product support, adding gig workers as an extension of the traditional contact center provides a resilient layer of talent to meet volume fluctuations.
That brings me to the last trend – planning for and building internal resilience in the organization. To build resiliency in your workforce, you need to have carefully planned career progression opportunities for employees, including embracing this new nature of work. If you have high performers who are no longer interested in the in-office 8-hour shift, give them the option to use their knowledge to provide services in a flexible model, for example, as a gig worker.
In summary, employers need to listen to and understand their employee voice and offer flexible work models to attract and retain the best talent in 2022. However, moving away from traditional models can be challenging if not done right. There are very few providers in the market today that can offer a workforce model that blends the power of global gig experts, in-house full-time associates, and CX transformation technology to offer flexible, scalable, and on-demand CX services. This hybrid model could be the answer to the challenges faced by the customer service industry today as it strives for stability, resilience, and agility in service delivery. Directly OnDemand, recently acquired by CSS Corp, now offers this model in addition to the pureplay gig expert model mentioned above. There is enough empirical evidence to suggest that the customer satisfaction achieved using gig peer-to-peer experts is superior to the traditional model and the model is robust enough to scale up and down during seasonal spikes.
I believe that gig work is here to stay and has already changed the nature of work forever. It is time to participate in it and leverage this new model to find and retain diverse and highly skilled talent.
The guest post was written by: Melanie Fricke, Directly OnDemand (recently acquired by CSS Corp)
The blog was originally published on the EITK portal. Content copyrights @ Execs In The Know